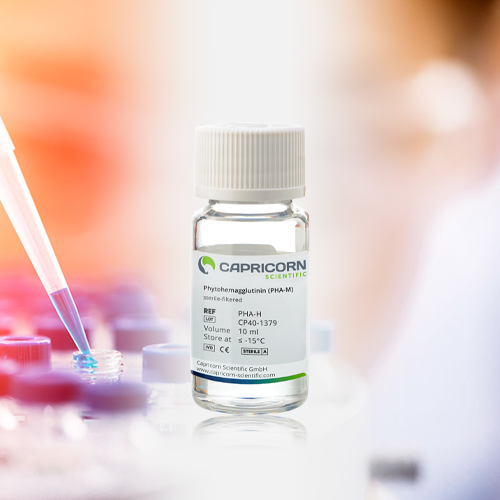 Phytohemagglutinin M (PHA-M)
Phytohemagglutinin (PHA) is a mitogen that is used for the stimulation of cell proliferation in lymphocytes and monocytes, and the agglutination of erythrocytes. It is a lectin found in legumes and most commonly extracted from the red kidney bean (Phaseolus vulgaris).
PHA actually consists of two closely related molecules: leucoagglutinin (PHA-L) and erythroagglutinin (PHA-E), and each of these consist again of five isolectines (tetrameres) that are held together by non-covalent forces. PHA-M is the mucoprotein form and is a crude extract – it contains all the solutes extracted from the plant material.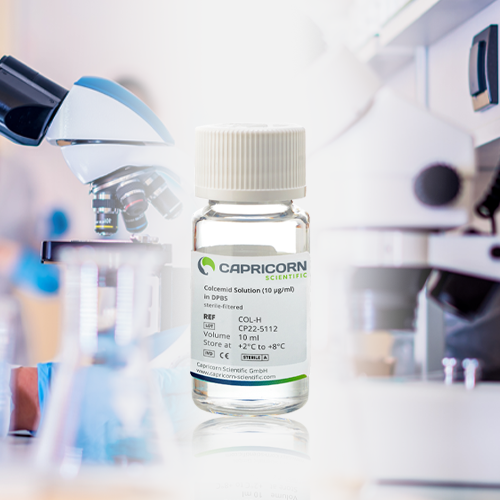 Colcemid
Colcemid, also known as Demecolcine, is closely related to the natural alkaloid colchicine, but it is less toxic. It is commonly used in cell culture to arrest cells in metaphase for karyotyping, particularly for lymphocyte karyotyping
Colcemid acts by depolymerizing microtubules and inhibiting spindle fiber formation. In medical applications, it is also used to improve cancer therapies by synchronizing tumor cells in metaphase, where the cells are most sensitive to radiotherapy.
Potassium Chloride (KCl)
Potassium Chloride (KCl) is commonly used for various cytogenetic applications, including karyotyping, fluorescence in situ hybridization (FISH), and chromosome analysis.
Due to the lower osmotic pressure of KCl in comparison to cell plasma, this solution can create an osmotic pressure difference that makes it suitable as a lysing reagent. In this process, it causes the cell's membranes to swell and rupture, exposing the chromosomes for subsequent analysis.
In general, treating cells with KCl facilitates their expansion for optimal spreading of metaphase chromosomes during karyotyping procedures. After treatment, chromosomes can be fixed and stained using various dyes to visualize the banding patterns, allowing cytogeneticists to analyze their structure and identify any abnormalities under the microscope.