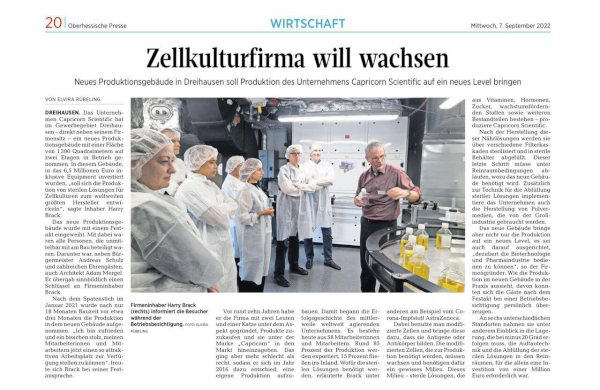 Cell culture company wants to grow
With a heartfelt "thank you" to all helpers!
... we finally made it after an exciting construction phase.
On Friday, September 02, 2022, the moment had come. Together with our investors and bankers, numerous business partners as well as our hard-working construction workers and employees, we were able to celebrate the opening of our 1,350 m2 pharmaceutical production facility in Ebsdorfergrund.
A special thank you goes to our mayor Andreas Schulz for his inspiring speech as well as to our guests from Brazil and Indonesia, who travelled a long way to celebrate this special day with us.
We would also like to thank our honorary employee Adam Mergel, an architect without equal, for his speech and the impressive painting – for which the place of honor in our new building is secured!
With culinary delicacies from Marburg – thanks to Meier III – and an enchanting evening program with Luke Dimond, which made you want to lie under the table laughing, we hope to have offered everyone the right reward for their help. We also hope that the tour of the production facility led by our staff provided informative and exciting behind-the-scenes insights!
What is left to say?
Our company is continually growing to meet the changes in the marketplace. We have big goals, but with all our friends and partners, they are actually achievable. "Market leader in certain areas" thus remains only a matter of time!
Thank you very much for an unforgettable evening
Yours,
The Capricorns