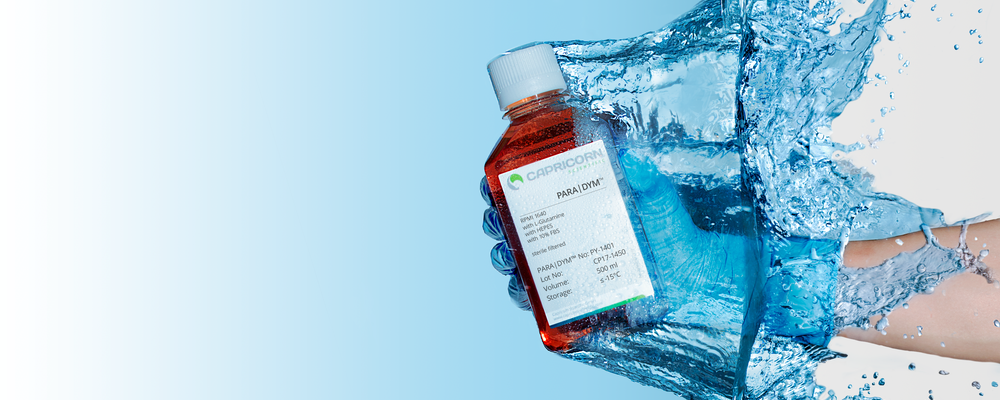 PARA|DYM™
Fast. Flexible. Reliable. The new concept to speed up processes!
PARA|DYM™ is our special service to make your daily research routine safer and more reliable

What makes YOUR nutrient solution? A cell culture medium with YOUR pre-tested serum and other supplements!
YOUR choice of medium type
YOUR choice of serum
YOUR choice of supplements
Whether you go with Capricorn's Sera or you supply the serum from another source - it is always your serum!
We produce the finished medium according to your specifications, whether it is RPMI, DMEM, or other media. We can also add any special additives you require, e.g., HEPES, penicillin/streptomycin, or growth factors in a defined way, without the risk of pipetting errors or contamination.
For our industrial customers, we also offer comprehensive documentation on request.

Watch our PARA|DYM™ explanation video (German)

Advantages at a glance
Manufactured under industrial clean room conditions
No risk of contamination
Homogeneous batch for consistent results
Just-in-time supply
Fast and cost-effective

Have a look at our PARA|DYM™ brochure and flow chart:

Download PARA|DYM™ Brochure (EN)

Download PARA|DYM™ Flow Chart (EN)

Please do not hesitate to contact us, should you have any further questions:

Contact us now

Discover our PARA|DYM™ Q&A section