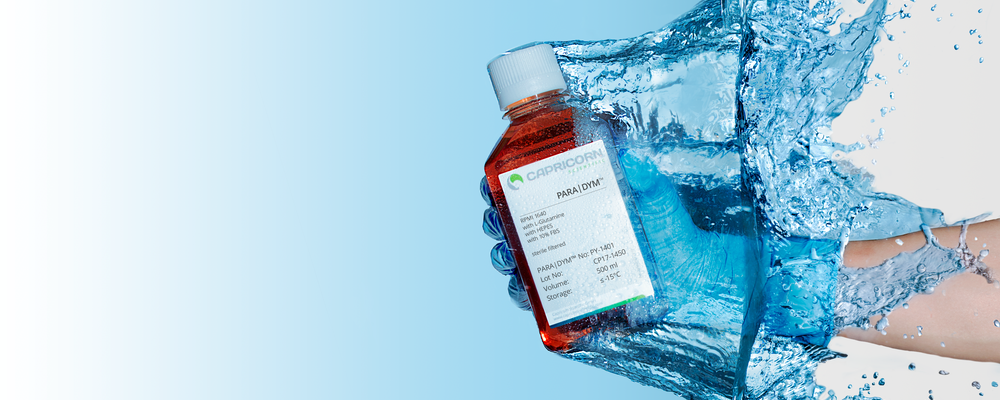 Q&A PARA|DYM™
Shifting the PARA|DYM™: the concept explained.
Any questions about our PARA|DYM™ concept? Here are some answers that may be helpful.
My serum of choice is from another supplier. How does that work with the PARA|DYM™ concept?
We are well aware that serum is always an individual selection based on strict testing procedures. It doesn't matter who your supplier is, we will collect your serum of choice from your workplace and use it in the preparation of your Ready-for-Use Medium.
I need several media for various cell lines. Is this possible?
Certainly. Capricorn Scientific is a very flexible company, and we do whatever we can to assist you. We will produce all media you require for your research applications.
What is the lead time for the production of my Ready-for-Use Medium?
First, we draw up a formal agreement stating exactly what you need, including what should be written on labels and the quantities you will need with a delivery schedule. We also plan the delivery of your serum to our laboratory at 'Auf der Lette' in Ebsdorfergrund. Then we will need 14 days for the first delivery of your PARA|DYM™ Ready-for-Use Medium. All subsequent deliveries (call-offs) will take place within 24 hours, or as agreed in the delivery schedule.
What is the shelf life of PARA|DYM™ Ready-for-Use Medium?
We have carried out intensive studies with our Ready-for-Use Media and were able to show that they are stable for 4-6 weeks when stored at +2 °C to +8 °C.
I would like to try this concept. Can you provide me with a sample?
Certainly. If you provide us with a flask of your serum, we can provide you with 10x500 ml of a Ready-for-Use Medium of your choice. Why not discuss this with us right away and arrange for samples? You will appreciate our excellent work and unique service.
How are my orders delivered?
It depends on what you need. If you intend to use the medium within 4 weeks of the given delivery date, then we will deliver the medium frozen but without dry ice so that you can use it right away. If, however, you intend to opt for long-term storage, we will deliver your shipment on dry ice.
We gladly answer your questions and support you with our know-how:
techservice@capricorn-scientific.com